Sha Tin Racecourse Tourist Information
When entering the racecourse you may be surprised by how large it is, there are certainly many things to see and do at Sha Tin.

No one is allowed into the racecourse that is under 18 years of age. This includes children or babies that might be with you. Sorry, but the laws in Hong Kong are strict in regards to this.

The gates to the racecourse open at 11:00 a.m. . The normal entry ticket costs $HK10. If you are a tourist visiting Sha Tin you can purchase a ticket to the Members Enclosure for $HK 130. Read more here about tourist information
Full racecard up to the minute horse racing results , to see the latest winning horses in Hong Kong. Next race day entries with downloadable past performances.
---
Consult our racing calendar page , which shows all of our Hong Kong horse racing scheduled dates. Want to listen to our live racecalls? Find live and recorded audio of all hong kong races here. We offer some of the best free horse racing tips , with a high in the money percentage and winning strike rates.
---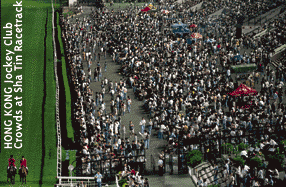 Hong Kong loves horse racing, it's nearly a national past time here. You wll be hard pressed to find fans that are more loyal to the sport, than here in Hong Kong. Horse racing here reaches excitement levels of football (soccer) in Europe, or baseball in the United States. Crowds pack the stands at both Sha Tin and Happy Valley Racecourses where average attendance routinely reaches 10's of thousands per race day.

It is truly an exciting event to attend live racing in Hong Kong. Even if you are not a big fan of horse racing, the electric atmosphere is not to be missed.
The Hong Kong Jockey club announces record betting turnover for the 2016/2017 racing season. The total betting turnover for the year reached a record
HK$117.456 billion, in USD$ that equates to around $15.25 billion.

The massive increase in betting handle was primarily due to the addition of overseas bettors. Sha Tin & Happy Valley now allow foreign bettors to place wagers directly into the HKJC betting pools. This is proof that when you offer a high quality racing product, with extremely fair rules and low takeouts. Bettors will flock to wager on your products.

The Hong Kong Jockey Club receives more than HK$10 billion in annual betting revenues from Sha Tin and Happy Valley. Read More About Sha Tin
Rocketeer Among Hong Kong Derby Entries As Moore Aims To Win Race For Sixth Time -
Rocketeer
is among the 36 first stage entries for the 2018 Hong Kong Derby at Sha Tin, which is set to take place on March 18. The race, which is open to four-year-olds only, features the best horses from that age category in Asia and is one of the most prestigious contests run on turf anywhere in the world.
China Horse Club Working To Bring Racing back to China's Mainland - The China Horse Club Syndicate has been on a spending spree, buying up quality young horses to race world wide. Led by their owner Teo Ah King, who was born in Malaysia but heads the China Horse Club, who are investing millions in race horses.

If you liked any of these articles, you are sure to like the rest of our informative horse racing related content. We cover Hong Kong horse racing and racing in the rest of the world, with a focus on some of the biggest races and names in the sport. Click here to see all of our racing articles.
Hong Kong International Races

Hong Kong has become a fixture for world racing in recent years. Each year the International Races including the Hong Kong Cup draw foreign horses from all over. The series includes 4 important races which are held on the same day at Sha Tin Racecourse. Sponsored by watchmaker Longines, the HKIR races are the Hong Kong Cup, Mile, Sprint and Vase. They have all achieved Group 1 status.
The Hong Kong Derby
History:

The Hong Kong Derby was first run at the

Happy Valley Racecourse

in 1873. The original distance for the race was 1/1/2 miles (around 2400m). The first winner of the race was named Surprise. Read more here about the Hong Kong Derby
Understanding Class Of Races In Hong Kong
Horse racing in Hong Kong is quite neat and orderly as horses are rated on a sliding scale. In other words every horse that races in Hong Kong has a number rating associated with it. The lower the rating the less quality is associated with that animal, a high rating means a high quality racehorse. An example would be that a horse with a 39 rating would have much less ability than a runner rated 81.

Every race in Hong Kong is rated by class. Class 1 & premier class races are the highest. With class 5 being the lowest quality animals. A class 3 event would be somewhere in the middle. Read more about race classes in Hong Kong here
All Weather Racing (AWT)
All weather racing (dirt track) makes for only a small portion of the racing done in Hong Kong. Most of the racing here is done on the turf (grass). Most of the AWT (all weather track) races are for the lower graded horses in Hong Kong. This can make these races difficult to handicap. Another factor is horses moving from the turf to dirt quite often or horses that have not yet run on the AWT. This often makes for some of the best payouts in Hong Kong.

Here are some important factors to lookout for when handicapping the AWT events.

1: Speed - Horses who win races on the AWT are usually sitting up close to the lead. You will see many more wire to wire winners in AWT racing. Read more about All Weather Racing here

Top 10 Jockeys in Hong Kong Currently (source HKJC)
| | | | | | | |
| --- | --- | --- | --- | --- | --- | --- |
| Jockey | Win | 2nd | 3rd | 4th | Total Rides | Stakes Won |
| | 95 | 67 | 59 | 52 | 465 | $120,742,120 |
| | 83 | 76 | 43 | 41 | 430 | $112,967,640 |
| | 39 | 43 | 38 | 27 | 317 | $57,588,650 |
| | 39 | 41 | 52 | 42 | 415 | $52,844,085 |
| | 29 | 27 | 36 | 29 | 407 | $49,616,550 |
| | 28 | 21 | 22 | 32 | 280 | $44,532,850 |
| | 25 | 33 | 15 | 23 | 302 | $27,939,150 |
| | 25 | 31 | 40 | 33 | 366 | $32,908,950 |
| | 24 | 24 | 28 | 26 | 345 | $30,962,175 |
| | 21 | 15 | 19 | 26 | 350 | $20,889,250 |
For a bettor it is important to know which jockeys are in winning form. A good strategy is to back jockeys with winning statistics.
Find out which trainers are in winning form. Click here for current trainer statistics.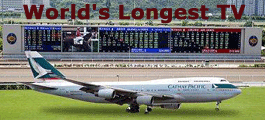 Sha Tin Racecourse, Hong Kong has the world's longest TV, as certified by the Guinness World Record.

The Diamond Vision display measures 70.4 meters (231 feet) long by 8 meters (26 feet) high. The screen equates to 4,500, 21" TVs piled up, and it's width is equivalent to the length of a Boeing 747 jet.

If you include the housing, it weighs an incredible 266 tons. It has very high resolution, capable of producing remarkably clear images. With a pixel pitch of 20 mm (about 3/4 inch), it is capable of producing up to 1 billion distinct colors, and the screen can be divided into six sections.

Each pixel consists of four LED lamps, two red, and one each of green and blue. Over 40 different format combinations are used, and up to six simultaneous real-time displays incorporating TV coverage, graphics and text.

Constantly on display will be the win, place, and quinella odds, while paddock, live racing, video patrol will be shown during the running of the races. Other information to be displayed include list of starters, weight, track condition, race distance, margins of finish, race time, results, and payoffs.

With a TV so large you can be assured a great view of the races from any seat at the racecourse.
From humble beginnings Sha Tin has grown up and is now one of Hong Kong's largest residential districts. The district is comprised of Ma On Shan and Sha Tin New Town. Properties in Sha Tin are mostly high rise buildings, they consist of both public and private properties. Sha Tin connects to Kowloon and Hong Kong Island via the East Line of the MTR.

City One is a large private development near Ma On Shan. City One complex consists of 54 high rise buildings. There are many schools located in Sha Tin, some of the larger schools include Renaissance College and Sha Tin College.There are a large variety of Shopping Venues located in Ma On Shan, Tai Wai and Sha Tin New City. Sha Tin Country Park is a popular destination for those seeking relaxation and recreation. The Sha Tin Racecourse is a very popular destination, especially on race days which are usually held one day per weekend. There are a complex series of tunnels and highways which connect the district to all other regions of Hong Kong.




- Copyright 2021 -

Advertise

-
Links

- Buy this website