Nowhere in the world is horse racing so important or appreciated as it is in Hong Kong. The fans of racing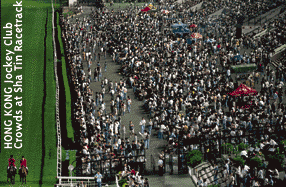 in Hong Kong are inspirational. Horse racing here reaches excitement levels of football (soccer) in Europe, or baseball in the United States. Crowds pack the stands at both Sha Tin and Happy Valley Racecourses where average attendance routinely reaches 10's of thousands per race day. It is truly an exciting event to attend live racing in Hong Kong.
The Hong Kong Jockey club announces record betting turnover for the 2016/2017 racing season. The total betting turnover for the year reached a record
HK$117.456 billion, in USD$ that equates to around $15.25 billion.

The massive increase in betting handle was primarily due to the addition of overseas bettors. Sha Tin & Happy Valley now allow foreign bettors to place wagers directly into the HKJC betting pools. This is proof that when you offer a high quality racing product, with extremely fair rules and low takeouts. Bettors will flock to wager on your products.

The Hong Kong Jockey Club receives more than HK$10 billion in annual betting revenues from Sha Tin and Happy Valley. Read More About Sha Tin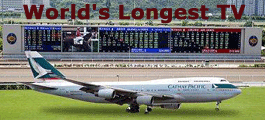 Sha Tin Racecourse, Hong Kong has the world's longest TV.

As certified by the Guinness World Record, Sha Tin Racecourse has the world's longest television.

The Diamond Vision display measures 70.4 meters (231 feet) long by 8 meters (26 feet) high. The screen equates to 4,50021" TVs piled up, and it's width is equivalent to the length of a Boeing 747 jet.

If you include the housing, it weighs an incredible 266 tons. It has very high resolution, capable of producing remarkably clear images. With a pixel pitch of 20 mm (about 3/4 inch), it is capable of producing up to 1 billion distinct colors, and the screen can be divided into six sections.

Each pixel consists of four LED lamps, two red, and one each of green and blue.

Over 40 different format combinations are used, and up to six simultaneous real-time displays incorporating TV coverage, graphics and text.

Constantly on display will be the win, place, and quinella odds, while paddock, live racing, video patrol will be shown during the running of the races. Other information to be displayed include list of starters, weight, track condition, race distance, margins of finish, race time, results, and payoffs.

With a TV so large you can be assured a great view of the races from any seat at the racecourse.