Hong Kong Cup Information - Purse: HKD $25 Million - Distance: 2000 meters, Group 1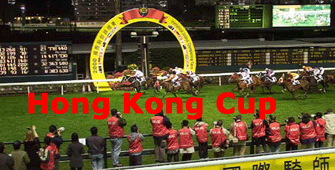 Hong Kong has become a fixture for world racing in recent years. Each year the International Races including the Hong Kong Cup draw invaders from all over. You can expect excitement and suspense each year in the HK Cup. The caliber of horses and jockeys competing seems to only improve every year. Mark your calendar for one of the world's greatest race days.

The first running of the Hong Kong Cup was in 1988, at Sha Tin Racecourse, where it is still run today. The first running was at 1800 meters, the race is currently run at 2000 meters. Flying Dancer was the first winner of the race. The cup did not attain Group 1 status right way, it took until 1999.