Hong Kong Cup Information
Purse: HKD $20 Million - Distance: 2000 meters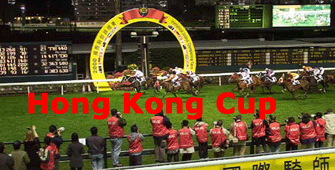 Hong Kong has become a fixture for world racing in recent years. Each year the International Races including the Hong Kong Cup draw invaders from all over. You can expect excitement and suspense each year in the HK Cup. The caliber of horses and jockeys competing only gets better every year. Mark your calendar for one of the world's greatest race days.

Previous Winners listed below
Year
Horse
1987
Flying Dancer (NZ)
1988
Colonial Chief (NZ)
1989
Grey Invader (NZ)
1990
Kessem (NZ)
1991
River Verdon (Ire)
1992
Romanee Conti (NZ)
1993
Motivation (Arg)
1994
State Taj (USA)
1995
Fujiyama Kenzan (JPN)
1996
First Island (GB)
1997
Val's Prince (USA)
1998
Midnight Bet (USA)
1999
Jim and Tonic (FR)
2000
Fantastic Light (USA)
2001
Agnes Digital (USA)
2002
Precision (FR)
2003
Falbrav (IRE)
2004
Alexander Goldrun (IRE)
2005
Vengeance of Rain (NZ)
2006
Pride (FR)
2007
Ramonti (FR)
2008
Eagle Mountain (GB)
2009
Vision D'Etat (FR)
2010
Snow Fairy (IRE)
2011
California Memory (USA)
2012
California Memory (USA)
2013
Akeed Mofeed (HK)
2014
Designs On Rome (IRE)
2015
A Shin Hikari (JPN)
2016
Maurice (JPN)