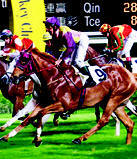 For most Chinese, gambling is a form of luck and entertainment. To gamble and win means you are truly a lucky person indeed. Come to the races in Hong Kong and enjoy a thrill of a lifetime.
Featured races include the Hong Kong Cup, Hong Kong Derby, Hong Kong Mile, Hong Kong Vase, Hong Kong Sprint.

Did you know that? Hong Kong means "fragrant island" , Sha Tin means "sand field"

"Racing in Hong Kong is more exciting than anywhere else in the world. There are a limited number of races and a limited number of horses, so that makes each race very special indeed." — Basil Marcus, South African born rider who was a champion jockey in Hong Kong.
Winning margins at Sha Tin are often slim, with many races decided in the final yards. Competition is fierce and the winning horses are richly rewarded for their efforts. Nothing like horse racing in Hong Kong. Super exciting!! If you select the winning horse can be highly profitable as well.