CEO of the Hong Kong Jockey Club Mr Engelbrecht-Bresges recently noted that the HKJC sustains employment for tens of thousands of people, often creating jobs at times and places where they were most needed. "A good example is the 4,000 new jobs we created during 2009, when many other organisations were still cutting back their staff levels after the financial downturn. This includes 2,500 in Tin Shui Wai, as part of an innovative project that has won numerous awards during the past year."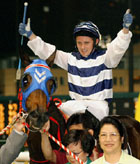 Purses are some of the richest in the world. Ensuring top class competition and routine foreign invaders, who try to take a piece of the large pie. Horse racing in Hong Kong is truly world-class. Horse racing fans everywhere should appreciate Hong Kong as a true racing paradise!!
The thrill and excitement of horse racing in Hong Kong is unmatched throughout the world. Thousands upon thousands of happy and enthusiastic spectators cheer and gasp as the horses cross the winning post.
Hong Kong Racing is thriving, with average betting pools of US$17 million per race. Hong Kong is also known for large quality fields of horses. The average field size is currently 12.5 starters per race.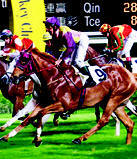 For most Chinese, gambling is a form of luck and entertainment. To gamble and win means you are truly a lucky person indeed. Come to the races in Hong Kong and enjoy a thrill of a lifetime.
Featured races include the Hong Kong Cup, Hong Kong Derby, Hong Kong Mile, Hong Kong Vase, Hong Kong Sprint.

Did you know that? Hong Kong means "fragrant island" , Sha Tin means "sand field"

"Racing in Hong Kong is more exciting than anywhere else in the world. There are a limited number of races and a limited number of horses, so that makes each race very special indeed." — Basil Marcus, South African born rider who was a champion jockey in Hong Kong.
Winning margins at Sha Tin are often slim, with many races decided in the final yards. Competition is fierce and the winning horses are richly rewarded for their efforts. Nothing like horse racing in Hong Kong. Super exciting!! If you select the winning horse can be highly profitable as well.